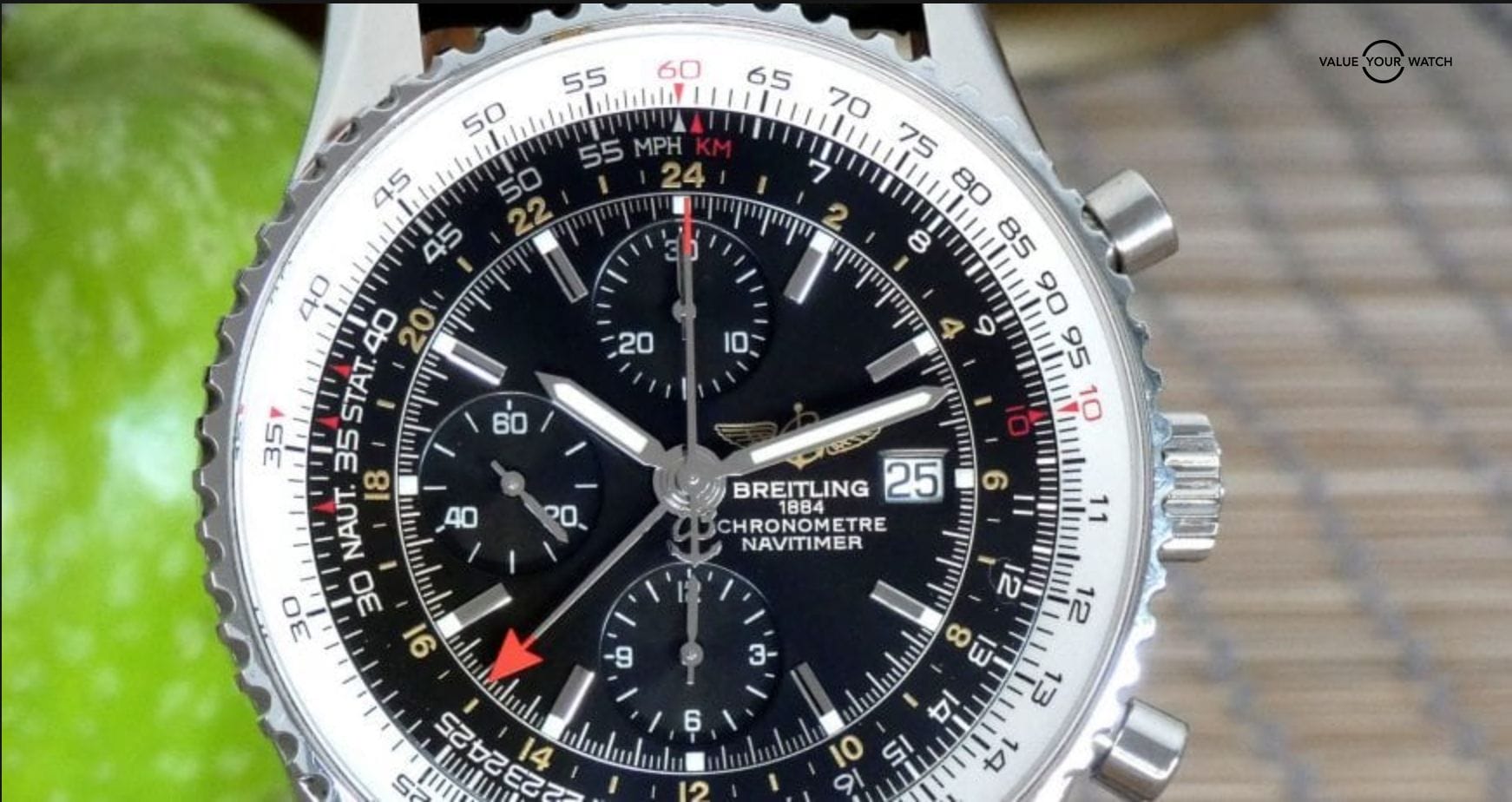 Value Your Watch sellers have unprecedented advantage when it comes to selling watches online. There is no other online watch marketplace that gives watch sellers so many tools when it comes to buying and selling watches.
There is neither seller's fees nor listing fees, plus you get access to all the sold watch inventory and much more.
Before you start selling your watches at Value Your Watch marketplace, you will need to set up the account the most efficient away. In this guide, you will learn how to do it and how to take advantage of this luxury watch marketplace.
The first part of this blog post will be helpful to some, however if you are looking for tips on how to get more sales, scroll to the second half.
Setting up Value Your Watch Sellers Account
Register a Seller's Account
The first step to become a watch seller at Value Your Watch marketplace is to register.
All you need to do is follow the steps shown in the registration form. The fields shown are self-explanatory. You don't have to own an actual business to sell watches at Value Your Watch marketplace. When you write the Shop Name, the link to your store will include the Shop name.
For Example:
Shop Name: FreeWatches
Shop URL: https://staging.valueyourwatch.com/store/freewatches
Setting Up the Watch Store
Now, that you have registered, you are ready to set up your online watch store. When you are in the "My Dashboard" you want to get familiar with functions this platforms offers you.
Products: That's where you list your watches for sale
Orders: Check current status of your orders
Coupons: You can create specific coupons for your buyers
Reports: Sales, Statements and more
Reviews: Reviews by customers
Contact Admin: Contact us to get help
Followers: People who are following your store
Subscription: That's where you select which subscription you want
Tools: You can import and export your watches
Support: Helping your customers
Settings
Setting your store is one of the most important thing you should take care of right from the beginning. The first thing you should do at your store is to upload a banner and a profile picture. By clicking at the Upload button you will be able to do it.
After you upload the pictures, you will be asked to fill out the rest of the page. There is an address which will be shown on your store page. If you do not have business address, I highly advice you not to put the full address for security reasons. (Especially if it's your home address.)
After the address, you have the following options:
Email: Show email address in store
More products: Enable tab on product single page view
Terms and Conditions: Show terms and conditions in store page
Discount: Enable storewide discount
Last but not the least step is to select the Support button. This is the way the buyers can reach out to you directly. I would suggest you to customize the support button text.

Payment
You have two options when it comes to accepting payments from the buyers. You can set up a direct deposit or Stripe payment. The way the bank transfer works is that, if someone wants to pay by wire they will get your wire information and you will get an order from the buyer. Please do not ship until you have received the payment and the money is in your account. One of the things you can do is to call the client to find out when you should be expecting the money in your account.
If you choose stripe, you will need to connect it to the platform. All you have to do is to click on "connect with Stripe" and there will be a step by step process to have you set up the account. If someone pays you by credit card, and you have stripe account set up, you will get charged by them 2.9% + .$.30 per transaction. Keep in mind that the fees are not refunded to you if you refund the buyer for any reason.
Verification
Verification at Value Your Watch marketplace helps the watch sellers become more trusted. They have to submit ID for verification (Password, ID or Driver license). After they submit this information, there will be a check mark next to their profile to mark them as a verified profile.
Shipping
When you click a the Shipping tab, you will see the different zones, When you click a the hyperlink "Click Here" You will be able to set up the default shipping, processing time as well as refund policy for the buyers.
Here is a great blog post how to ship your watches Fast and Safe.
Social Profile
One of the reasons, why watch buyers as well as watch sellers love our platform is because of ease of connecting with the sellers. Each seller can share as many social media links to their profile as they want to. When setting up the social profile, you should link to the account you are the most active. The top accounts linked to watch sellers are Facebook, Twitter, LinkedIn and Instagram.
Store SEO (Search Engine Optimization)
If you want your listing to show up online when buyers search for watches, you would want to take advantage of the SEO feature.
SEO Title Title of your store such as "Free Watches Provides The Best Value To Their Customers."
Meta Description: You want to repeat the same "Key Word". Free Watches been around since 2000 and they are prime online store sellers. There is no better place to find luxury watches online.
Meta Keywords: The words you want to be searchable ( Free Watches, Watches, online store, Luxury watches)
Facebook Title: If you ever share your profile on Facebook this title will be there.
Facebook Description: Description of the store
Facebook Image: Upload the picture you want to have when sharing your online store
Twitter Title: The title you want to share
Twitter Description: Write a clean concise description.
Twitter Image: The picture you would like to share.
The last tabs at your sellers dashboard.
Visit Store: Will take you to your online watch store
Edit Account Details: You can add it your name, email, and change password
Log out
How does the watch store looks like to your watch buyers.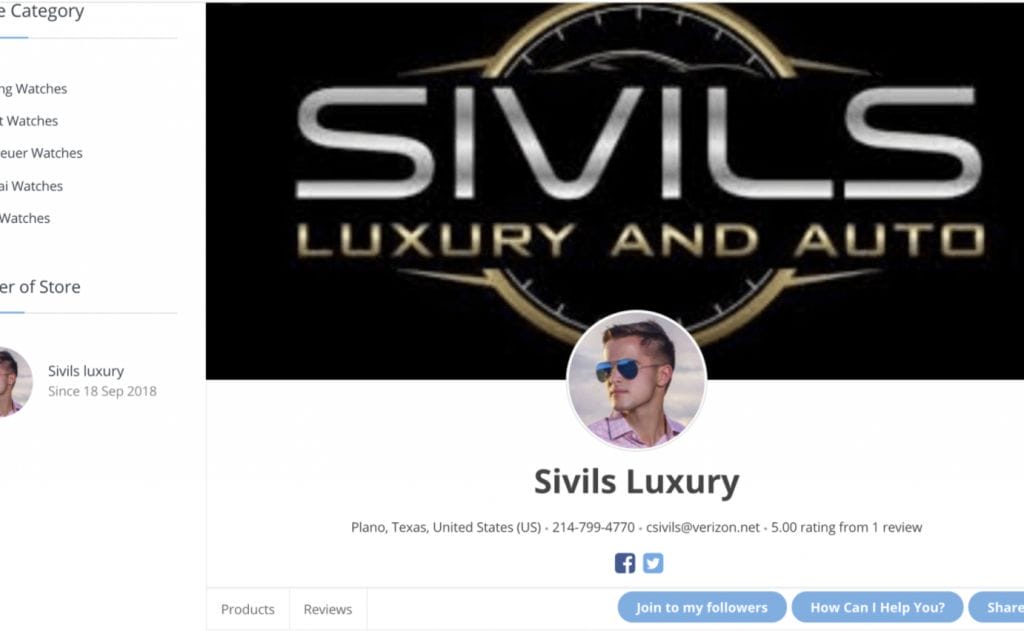 Now, that you know how to set up your watch store online, it's time to share how to start selling your watches at Value Your Watch marketplace.
How to Start Selling Watches at Value Your Watch marketplace
Select Subscription
List your Watches for Sale
Before you start selling at the watch marketplace, you will need to select the type of subscription you want.
Select Subscription
There are several options subscriptions available. The annual subscription saves you around 20% compare to monthly. You can also try the FREE subscription which allows you to list one watch for free. You will get the same features as the regular subscription. Do you want to Join NOW?
FREE
Monthly Individual
Annual Individual
Monthly Professional
Monthly Annual
VIP
Right above the subscription, you will see how many watches you can list and what type of subscription you have signed up for at Value Your Watch Marketplace.
Now that you have selected the subscription you want, you will able create your first listing to sell watches at Value Your Watch marketplace.
List your Watches for Sale
Listing your watch for sale is very easy. You can do it from your phone or your computer. The process is identical. On your dashboard, if you click at "Products" you will be able to see the entire dashboard and also how many more products you can add.
To create listings, you will need to click "Add new product" and then upload the pictures and fill out the key information.
Upload Cover Picture: That's where you insert the cover picture of your watch listings
The huge "+" sign: That's where you upload the rest of the pictures.
Product name: The title of the watch listings
Price: The Price you want to list it at
Discounted Price: The price you want listed at and show the savings from the original price (you can schedule the discount to take effect in later date)
Select Category: Choose the watch brand
Select product tags: You can select or create your own tags such as Speedmaster, Diver Watch, etc.
Short Description: This can be useful when you want to summarize the listings
After filling out the information, you can click on the submit button and you will be redirected to a more detailed form to fill out.
When you get to the "Edit Product" you are able to see what pictures you have uploaded as well as the information from the previous site. Right under the "Short Description", there is "Description which is the main description to describe your watches for sale.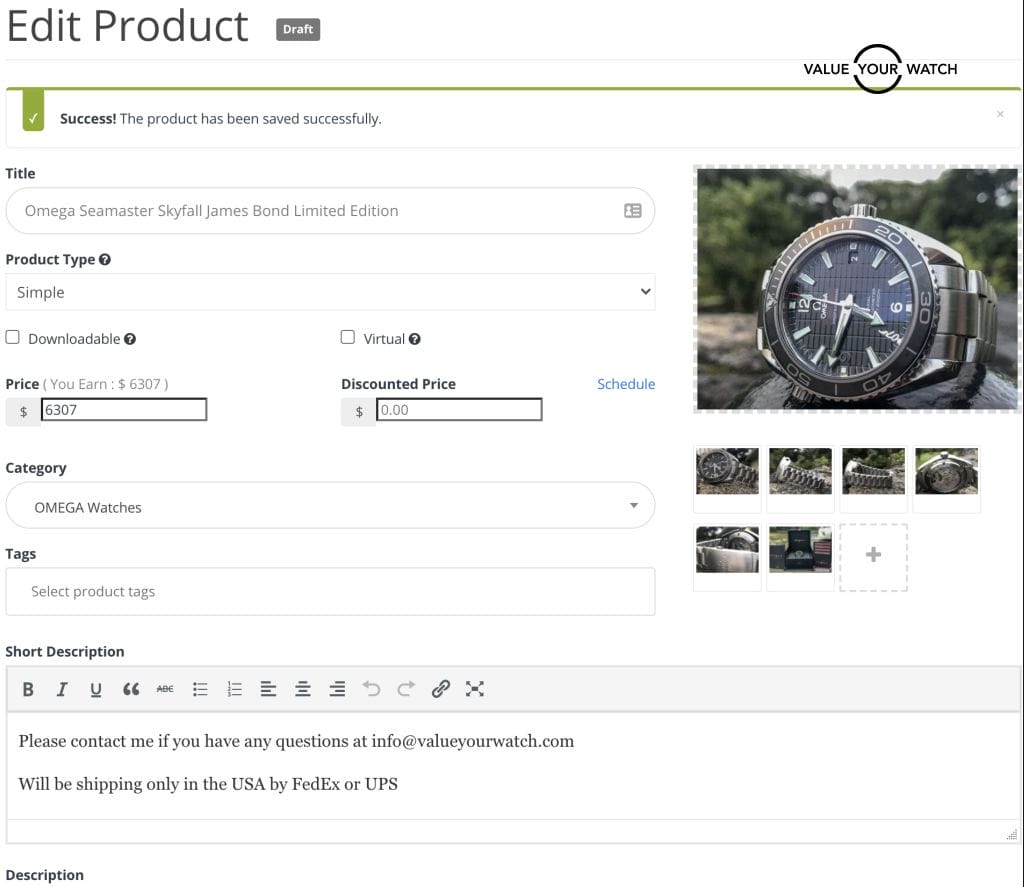 If you want to make sure that your watch does not go live immediately, you can have your watch listed as a "draft" before you make it "online".
You also have the option to choose the availability of the watch on the market. This has many advantages. There is no other marketplace, which allows you to have your watches still searchable online after it is sold.
In Stock (watch is available)
Out of Stock (watch is not available but still searchable)
On Backorder (watch is not available but coming soon)
When you fill out all the necessary information, you should save it. If you go back to products, sometimes it takes couple of minutes for the watch listing to show up. If you click at "online" on the left top corner you should be able to see your watch for sale.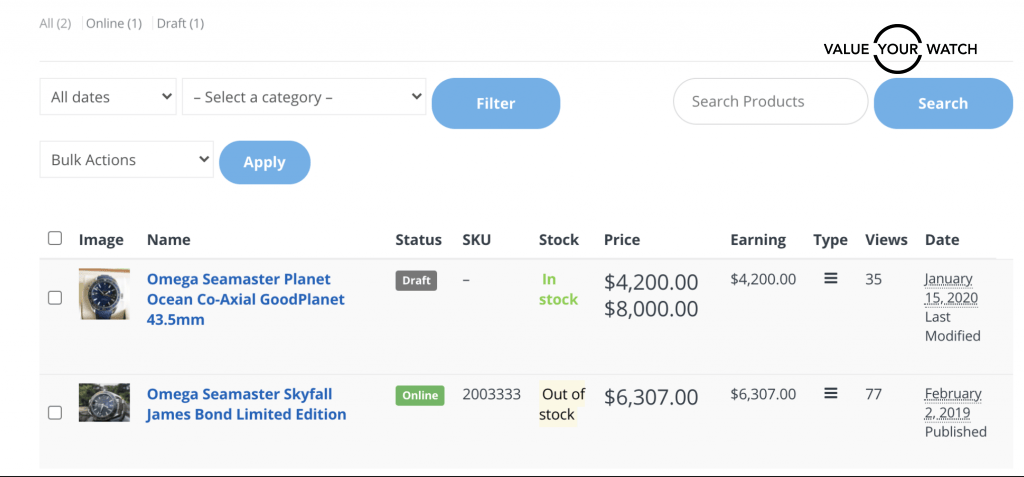 Now that you know how to create your own account at Value Your Watch marketplace and select the best subscription for you, it's time to learn about various strategies to get the most eyes on your watches so it sells fast.
How To Have The Most People To See My Watches
Having an online watch store is a great way to increase sales if you can attract the right kind of audience. There are many great ways to draw more traffic to your watch listings.
FREE
If you are like me and you love free stuff, especially if the free stuff allow you to sell your watches faster, the best strategy to have more people to see your listing is to give them the opportunity to find them. What I mean by that is to have your store, where you list all your watches for sale, link directly to various platforms available.
For example you, can insert a link to your Facebook or Instagram profile. By inserting your store link from Value Your Watch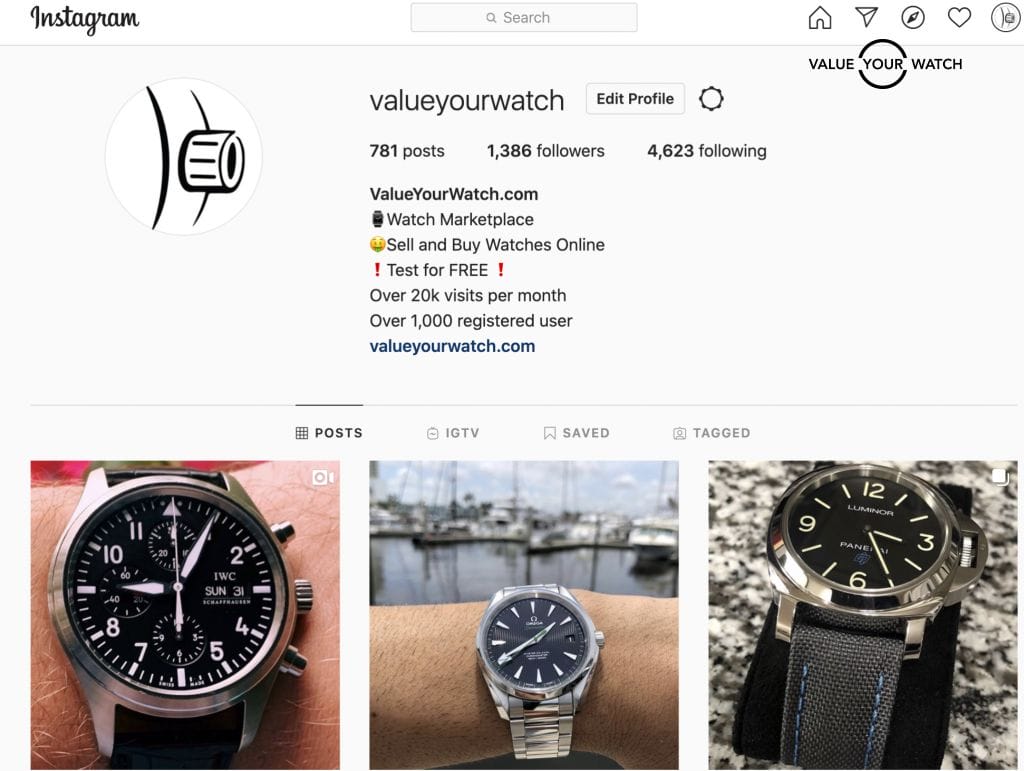 Another way to insert links to your listings, is to add them to your description. If you are writing a description for your watch, you can tell the potential customers to "check out" more pictures. You will them have a link right there. This approach works on forums and Facebook post.
If you remember the SEO set up of your online store, you can allow people to search your store name online. For example, if you store name is the same as it is on eBay or any other marketplace, the store at Value Your Watch will show up close to the top of the search.
You can become number one on the google search by using more links to your store.
Another perk of having an account either Free or Paid is that we share the new watch listings with our subscribers. We send a periodical email to our subscribers to share all the great deals which are listed at the watch marketplace.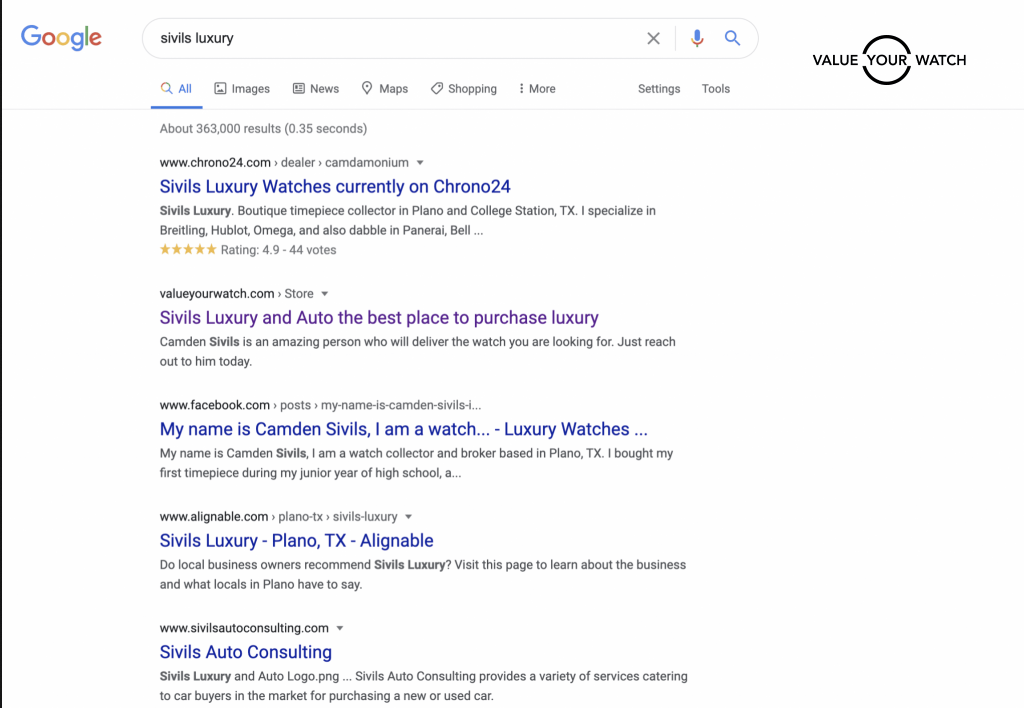 Paid
If you want to get even more exposure to your watch listing, you have many options. You can run various ads specifically for your watches, or you can have Value Your Watch take care of the online marketing. By paying the monthly subscription, your watches will be showcased on various online platforms.
Where do we share your watches with potential buyers?
By sharing on all the platforms mentioned above, the traffic to your watches increase exponentially without you having to put in the work. All you have to do is to list it once and we take care of the promotion for you.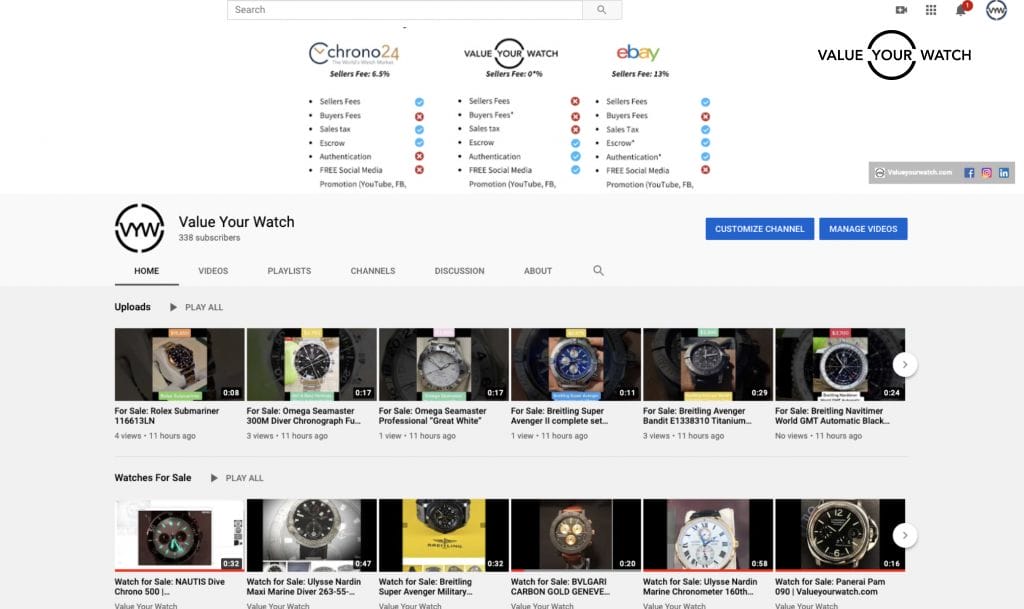 If you have shared your watch on YouTube, you can always share the link with your potential buyers. All you have to do is to go to your YouTube channel and copy the link of your watch.
When you get the link, just text it or email it to your potential buyers. This will save you time and increase the potential sales.
Another trick to get more people to see your watches is to mark your watches "out of stock" when you sell them. People will still be able to find them at the marketplace.
By having them marked, out of stock, they will still be searchable online as well as at the platform. Because potential watch buyers can still find the watch, they might ask you if you can get another one just for them.
How much do I get Charged to Sell at Value Your Watch
The marketplace is designed to help buyers and seller to connect and create trust quickly. I don't want people to pay a fee just because they can talk to the buyers. That does not make sense. Selling and buying expensive watches online has its own risks, and the hardest thing is to know that you are dealing with a trusted seller. Unfortunately there are also buyers who are taking advantage of the sellers. That's why it is up to the sellers to decide who they want to deal with and what kind of payment method they would like to allow for the buyers to use.
As a seller you can use Stripe or Direct Wire payment. When you are using Stripe the fee from them is 2.9% +.$.30 per transaction. Just keep in mind that the fees are non-refundable if you decide the refund the buyer for any reason.
If you choose to use the wire payment, you should talk to your bank to figure out how much does it cost to send and receive the wire payments.
The monthly subscription starts at $19 per month and it allows you to sell up to 10 watches at the same time.
The Fee you get charged at our platform is more than reasonable for the services and features you get. You can just compare all the other platforms and how much they charge you to just use them. I know that our path of building the best online watch marketplace is long but the result of helping people to sell more watches and keep more money in their pockets is priceless.
If you have any suggestions to make the marketplace better, feel free to contact me at info@valueyourwatch.com.
About the author : Honza Hroch
Related posts
Popular products
Product categories